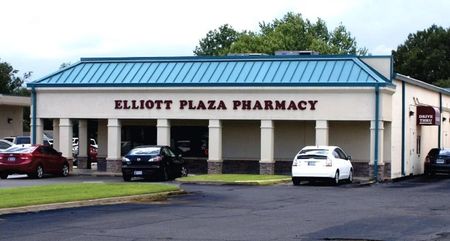 About Us
Here at Elliott Plaza Pharmacy, we are proud to say we have been serving the Pryor area for over 4 decades.
When originally opened in 1975 we were known as Medical Center Pharmacy and located on north Fairland across the street from the hospital. In 2004 the store moved to its current location and the name changed to Elliott Plaza Pharmacy. After owning and practicing pharmacy in Pryor for many years, Bill Flood sold Elliott Plaza Pharmacy to pharmacists Drew Turner and Janet Turner, where we continue the commitment that was started all those years ago to serve our community's pharmacy needs.
Since we are an independent drug store, we are able to offer many services the big box chain stores do not, such as free local area delivery, nursing home/assisted living medication blister packaging, and Medicare billing for diabetic testing supplies and durable medical equipment. We also strive to save our customers money on their prescriptions through therapeutic class generic substitution, utilizing pharmaceutical manufacturer coupon programs, and free Medicare Part D prescription plan analysis.
Our Staff
Our wonderful staff has over 60 years of combined experience. Whether you speak to a pharmacist, technician, or assistant, we pride ourselves on providing you with the most accurate and helpful information regarding you prescription medications and wellness as a whole.

Mark Martin, PharmD

Adam Lesher, PharmD

Drew Turner, PhD